Posts for tag: oral health
By Cox Family & Cosmetic Dentistry
June 12, 2017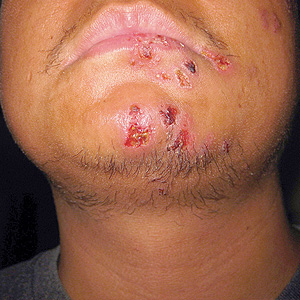 If you had chicken pox as a child, you're at higher risk for a painful viral infection later in life called shingles. Besides a painful skin rash and other symptoms that can develop, shingles could also affect your dental care.
About 90% of children contract chicken pox, a disease caused by the varicella zoster virus (VZV), which usually clears up on its own. But later in life, usually after age 50, about a quarter to a third of chicken pox patients will develop shingles.
The onset of shingles usually produces an itching or burning sensation on the skin that's either numb or overly sensitive to the touch. A red rash may ensue with crusty lesions, accompanied sometimes by pain, fever and fatigue. The rash often forms a belt-like or striped pattern along one side of the face or body.
For most patients this painful rash is the extent of their symptoms. But women who are pregnant, patients undergoing cancer treatment or people with compromised immune systems are at risk for more serious complications if they contract the disease. It's important for these at-risk patients to obtain a vaccination, as well as avoid contact with anyone with shingles.
Which brings us to your dental care: in its early stages shingles can be contagious, the virus passing to others through skin contact or by airborne respiratory secretions. That's why it's important if you're currently experiencing a shingles episode that you let us know before undergoing any kind of dental work.  Even a routine teeth cleaning with an ultrasonic device could disrupt the virus and increase the chances of it spreading to someone else. We may need to postpone dental work until the virus is under control.
Antiviral drugs like acyclovir or famciclovir are highly effective in bringing the disease under control, especially if treatment starts within three days of the onset of symptoms. And don't forget the shingles vaccination: the U.S. Center for Disease Control recommends it for anyone 60 or older regardless of a past history with chicken pox.
See your physician as soon as possible if you begin to notice symptoms. Don't let shingles interfere with your life — or your dental care.
If you would like more information on the impact of shingles and similar viruses on dental care, please contact us or schedule an appointment for a consultation.
By Cox Family & Cosmetic Dentistry
May 20, 2017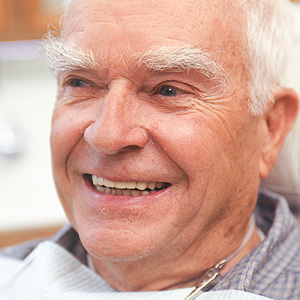 Like many people, you might be caring for an elderly parent or family member. That care should include a focus on their teeth and gums — a healthy mouth is vitally important to their overall health, nutrition and well-being. Because of the aging process, this can be challenging.
Here are 4 areas where you should focus your attention to assure the senior adult in your life has the healthiest mouth possible.
Make adjustments for hygiene. As we grow older, arthritis and similar conditions make brushing and flossing difficult to perform. You can help your senior adult keep up these vital tasks by switching to a powered toothbrush or refitting their brush with a bike handle or tennis ball to make gripping easier. Pre-loaded floss holders or water irrigators are effective alternatives to manual flossing if it becomes too difficult.
Have dentures or other appliances checked regularly. Many older people wear full or partial dentures. Due to the nature of these appliances, the risk of bone loss over time is greater, which can eventually affect their fit. Their dentist should check them regularly and reline or repair them if possible. Eventually, they may need a new appliance to match any changing contours in the mouth.
Be aware of age-related dental issues. Age-related conditions of both the mouth and the body (like osteoporosis, which can affect bone density) can impact dental health. For example, an older person can develop lower saliva flow, often due to medications they're taking. This, as well as gastric reflux common in older people, increases acidity and a higher risk of tooth decay. Past dental work like fillings, crowns or bridges may also make hygiene and additional treatment more difficult.
Keep up regular dental visits. In light of all this, it's crucial to keep up with regular dental visits for continuing teeth and gum health. Besides cleanings, these visits are also important for monitoring signs of tooth decay, periodontal (gum) disease and oral cancer. It's also a good opportunity to gauge the effectiveness of their hygiene efforts and suggest adjustments.
If you would like more information on dental care for older adults, please contact us or schedule an appointment for a consultation. You can also learn more about this topic by reading the Dear Doctor magazine article "Aging & Dental Health."
By Cox Family & Cosmetic Dentistry
April 20, 2017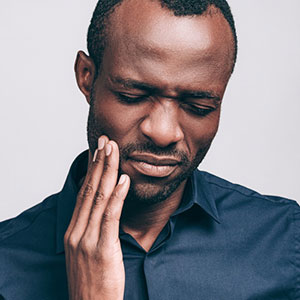 The Health Policy Institute, part of the American Dental Association, recently conducted a survey of around 15,000 people across the U.S., asking them about problems with their teeth and gums. Three issues in particular stood out, each affecting about one-third of those surveyed.
Here are those top 3 dental problems that plague Americans and what to do about them.
Tooth Pain. As with other parts of the body, tooth or mouth pain is a sign of something wrong — in some instances ignoring it could lead to tooth loss. Because there are a number of possible pain sources like tooth decay or periodontal (gum) disease, anyone with tooth pain should see a dentist for an examination to pinpoint the actual cause. That will determine what kind of treatment will remedy the problem and stop the pain.
Difficulty with Chewing. For 31% in the ADA survey, chewing food was a difficult and often painful task. The consequences go well beyond the mouth: with less chewing efficiency a person may be unable to eat certain foods that supply his or her body with essential nutrients. Like tooth pain, there are a number of possible causes: cracked or deeply decayed teeth, enamel erosion or recessed gums that have exposed sensitive tooth layers, or poorly fitted dentures. Finding and then treating the cause of the difficulty could help restore chewing ability.
Dry Mouth. The most prevalent dental issue in the survey was chronic dry mouth. It's more than simply being thirsty: chronic dry mouth usually stems from inadequate saliva flow. It's often caused by some systemic diseases or as a side effect to a prescription drug. Saliva helps neutralize decay-causing acid and supplies antibodies to fight infection. Without sufficient flow a person is more susceptible to diseases like tooth decay and periodontal (gum) disease. Changing medications or using products to increase saliva could help prevent these dental problems.
So, have you experienced symptoms for any these common oral health problems? If you have, be sure you see your dentist as soon as possible for diagnosis and treatment.
If you would like more information on symptoms of dental problems, please contact us or schedule an appointment for a consultation.